Going back to college doesn't have to become your life, but it does need to find a way to fit into your life.
Without proper time management, it can be easy to say to yourself at mid-term, "Is it the right time to go back to college? I have too much going on". 
Read this list so that you don't get too overwhelmed with managing your time.
Make it part of your life but not your entire life
It's important to introduce schoolwork into your routine. Try dedicating a space in your house or apartment for studying. Invest in a few school supplies that will make it easier for you to organize your life as a student. This can also be motivational. It may seem silly, but something as simple as having the "good" highlighters (vs. the dried up ones that have been floating around your desk for years), can kick start an evening of studying.
As you get deeper into the term, you'll find yourself having great ideas for discussion boards or your final project. These flashes of inspiration won't always come at an opportune time. To help capture your ideas, make sure you always have a way to record them. Download an app on your smartphone to log your ideas when you're out and about. Keep a notebook handy in the kitchen in case you get a great idea while cooking supper.
The better prepared you are in your day-to-day routine, the easier it will be to truly fit it into your life.

Make a list of what needs to get done
When it comes to getting things done at home, it's a team sport and your loved one will surprise you with how they step up to pitch in while you study.
When it comes to your schoolwork, it's a solo show. You need to have a good grasp on priorities so you can address what really needs to be done first.
Create a master calendar that blends your personal, professional, and academic life. Decide whether you want to use a digital calendar (which is awesome for setting reminders) or a traditional notebook planner that you can write in (which can help commit the items to memory as you jot them down).
Be critical. Look at your calendar and see if there's anything that doesn't need to be on it. See if there are any items on your to-do list that someone else can handle. Find ways to make your calendar less overwhelming and only focus on priorities that are contributing to your long-term goals. This will also help you remember your reasons for going back to college. 
Self-care is important, especially if you care for others at home or work. Getting the right amount of sleep, having time to exercise, and scheduling in some "me time" are also important.
G
et a feel for how much time it will take to complete the items on your list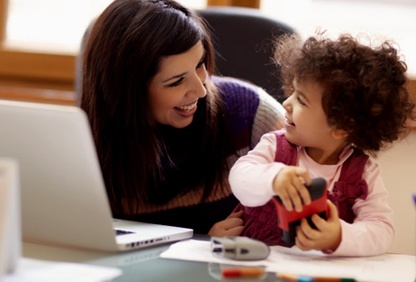 Understand that it takes time to tackle all of the tasks on your list. Let your actions snowball. Completing assignments in small amounts will add up as the week progresses. Assignments are like cleaning. There are some projects you need the whole day for (cleaning the garage) and some tasks that are routine but need your immediate attention (laundry).

You'll begin to notice that these time management skills will start to affect your work and home life. You will see yourself automatically picking up toys while thinking about your communication's paper, putting your kids to bed and reading them a book that gives you a great idea, and brushing your teeth looking in the mirror wondering how you are able to do so much!
And don't sweat it
If life and school become overwhelming, ask for help. Reach out to your teachers, GSC Staff, and other students. Just like in traditional classrooms, online students make friendships and talk casually with each other. Ask your online classmates how they're getting their work done. How are they balancing it all?
Become a student! View our courses and get started today!